about Florentino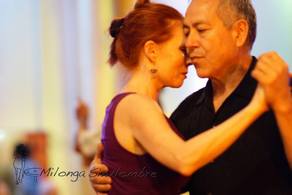 Avid Social Dancer, instructor, Organizer, & Tango Promoter
I started dancing tango because I had no social life after my separation. Other forms of dancing were just not satisfying the longing I felt for connection. After reading a newspaper story about Tango, I decided to learn to dance Tango by taking private lessons. For years, I danced at every opportunity. Five years later, I started teaching at UCSD Recreation with Isabelle Kay but only after breaking down every single aspect of tango to truly understand how to best teach beginners. I've taught hundredths
more
What we do
1
Every Friday, we provide up to 3
levels of lessons with open dancing afterward.
2
,We also provide workshops and special classes on other tango embraces and styles like Milonga, Tango Waltz, .
3
Every few months, we like to bring in a guest instructor from out of town to push our dancing further.
4
Every Spring, we rent out a boat and cruise around around sunset to the tunes of Salsa.
5
Twice a month, we host a milonga and other special events like "Tango with your Valentine"
6
Finally, we try to get live music whenever we can.
Tango: my passion
Tango is my passion. I want to share it with you. To this end, I offer free introductory lessons on a regular basis. If you want to dance socially and are looking for a fulfilling and rewarding dance experience with people of all backgrounds and ages in a safe and welcoming environment, then Tango has found you.
read more
testimonials
"After just one private lesson and a couple of group classes, I amazed myself by the fact that I could start dancing and doing things that I did not even know I could do."
"After my first class, I was so excited and I was so inspired that someone was teaching Argentine Tango so intuitively."