Tango Lessons
T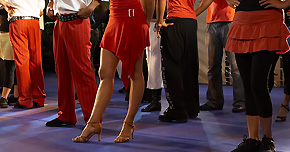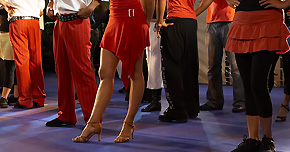 Every month we offer a Tango Intensive designed to jump start you into Tango social dancing. Make rapid progress in one afternoon to get started dancing sooner with more control and confidence .
We offer both a weekly All Levels drop-in class as well as a progressive Intermediate-Advanced level class. the All Levels classes are held on Mondays at Studio K Dance Fitness in Kearney Mesa. The Intermediate advanced class is held in Del Mar on Fridays. More
Once a month, we offer a free Tango Intensive with a free Introductory Tango lesson before. Find out what Tango is all about at no cost or obligation! Then, join if you like stay for the Tango Intensive that will prepare you for getting on the dance floor.
Already dancing tango? Then join us for a pre-milonga class for only $5 or free when you stay for the milonga. The 1/2 hour class is taught by Florentino and Jennifer or by the other milonga hosts, Krista and Matt. More
Specialty workshops designed to improve your dancing by adding variety and spontaneity to your dancing. .
Every couple of months we invite you to join us for a class and milonga in the beautiful San Diego outdoors. Newcomers will get a chance to learn the basics and then see tango dancers in action.
--->